Not all daily fantasy sports sites are equal. If you are a top ranked fantasy baseball manager on FanDuel, that doesn't mean that you will be successful on DraftKings. These two sites have very different scoring structures when it comes to MLB rosters, and knowing how to move between the two when you're drafting your teams will only help you to be more profitable at this. Let's take a look at some of the general concepts that you need to be aware of, and how to draft a team with a high probability of finishing in the money.
Look at Scoring
When you are using DraftKings for the first time, take a look at their scoring structure for MLB and note how it differs from FanDuel. There are two big differences that you will see right away. The first is the emphasis DraftKings gives to homeruns. Here, they give you +10 points per homer, while FanDuel only give you +4. There's a much bigger emphasis on power at DraftKings, and you need to take advantage of that somehow.
The second big difference is in pitching. DraftKings has many more scoring categories, and that means that your pitching selections are far more important here. You get 2 pitchers at DraftKings, and only 1 at FanDuel, stressing this fact even more. This will force you to use a different drafting approach.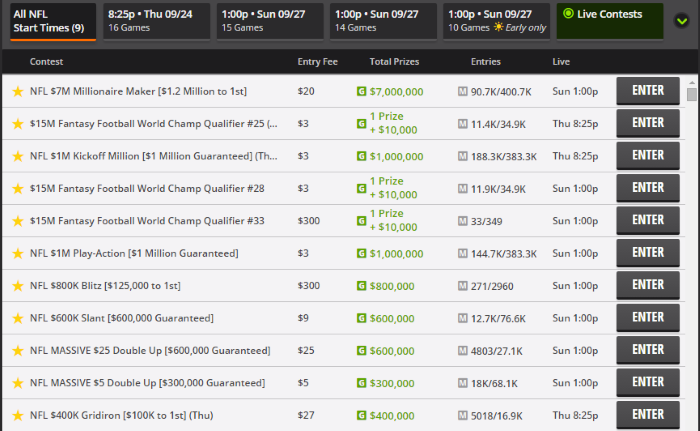 Seek the Value
One of the biggest things that the daily fantasy experts out there will tell you is that you need to look at value to win. This is true, but only to an extent. You need to look at value, but value will not win anything for you. Fantasy points are what wins contests at any site, and value is just a tool you can use to help you get more points per salary dollar. If the player that will help you get the most points out of your roster is expensive, he's still worth drafting. You will just need to look at value in other players as you go.
Drafting
Because of how DraftKings' point system works, you should start your roster out with a pitcher. Don't worry about value here. Not yet, anyway. Just look to the pitcher that will score a ton of points for you. Pitching comprises 20% of your roster, but should be more than 50% of your total points. The statistic that will help you out here the most is the K/IP number. A lot of sites don't post this, but it's easy enough to figure out for yourself. Take total strikeouts for the year and divide it by total innings pitched. Ideally, your first choice for pitcher should have a number above 1.00. DraftKings rewards Ks heavily (+2) as well as innings pitched (+2.25/full inning). They also have a +2.5 point bonus for a complete game and a +4 bonus for the win. Longevity in your pitchers is important for easy point scoring, but you want to make sure that you are getting a good return on that with a lot of Ks. Choosing a pitcher where these numbers will be maximized is your goal.
After choosing your first pitcher, look to power hitters. These are almost always found in the outfield and at first base. You get three outfielders at DK, but just draft one for now. Find one great outfielder and one first baseman. Value is now a minor concern, but should not be your final decision maker. You want to keep your average salary per player up over $4,000 still, but that's about it. Without too much creativity, you can accomplish this with ease at this point. Look at slugging average and On Base Percentage. OPS sums this up pretty well.
You now have 30% of your roster done. Go back to pitchers, and find a top pitcher that has a cheap price. This is the first time that value should be a priority. You want someone cheap that can contribute points to your roster. Try not to spend more than $8,000, but also draft a pitcher that has potential to score more than 20 points. You're 40% done.
Back to the OF. Value is a driving issue now. You want as many points as possible for as cheap as possible. Your average remaining salary per player will be under $4,000 at this point, and you want to drive it up a bit. Still, you can get a good outfielder without hurting yourself too much. Try not to spend more than $4,800. This will impact your choices a little, but you should still be trying to squeeze out 10 or more points here. It might not happen, but it should be a possibility. Draft one more OF position, then go to a cheaper position like 2B. Ensure that you are under your remaining salary per player number here. So, if you have $3,200 left on average, find a second baseman that is priced under this. 6 or more points is ideal to expect from this price range. You may need to settle for 5, depending upon availability.
Now, move to catchers. Again, look for something under your average. If you chose a $3,000 2B, you should still be looking at $3,000 for your catcher. There is the least amount of potential out of these two positions, so spend the least amount of money here. An average of 5 or more points is very realistic out of the catcher.
You should have 3 slots left now. Go back to your OF and pick the player that will give you the most point potential, but try not to go more than $500 more than your average. If your average has bumped up to $3,500, $4,000 should be your maximum price for an outfielder. Draft a decent #3 slot OF, and then follow the same guidelines for your SS and 3B as you did for your 2B.
Final Thoughts on DraftKings
You may need to make adjustments as you go. You may need to give yourself some wiggle room with these numbers. That's completely fine. You will definitely want to fine tune things before you click that submit button. The general concept at DraftKings is the same as FanDuel, but as you can see, the salary cap and the points have different meaning here. Also, points are scored slightly differently, which makes things even tougher. Once you can use these differences to your advantage, you will start seeing better results.